Mokoia Island™s colourful past covers passions from the benign to the violent, writes Natasha Utting.
We know winter is the best time to escape to a tropical island, so we did. Mokoia Island in the middle of lake Rotorua. Okay, it's not quite the tropics, but the ground temperature is a whole 9C degrees warmer than the mainland and its history is almost too hot to handle.
This is where the beautiful and rebellious Maori maiden Hinemoa defied her father's plans for an arranged marriage, and swam the 3.2km from the mainland to bed her lover Tutanekai. The inventive young woman is said to have worn hollowed out ponga trunks around her arms as inflatables for the midnight swim. But romance aside, it's also where the fearsome war leader Hongi Hika led his musket-armed warriors in a bloodthirsty ambush, slaughtering hundreds of Te Arawa people in 1823.
We tread carefully over the forest floor so as not to disturb.
We are guided around the island by Kawarau jet skipper Tony Brooks. It seems an unlikely coupling, a thrill-seeking jetboat company and a mysterious island sanctuary. It wasn't something we expected when we got on his boat that morning wearing giant raincoats and bracing ourselves for their signature 360-degree spins. But the Kawarau jet company has recently formed an agreement with the Mokoia Island Trust to start taking tourists to the island.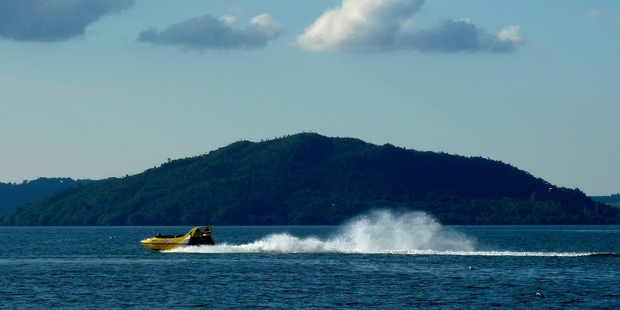 Polishing his storytelling skills on us, Tony is an impassioned guide. He charms with tales of clueless Tutanekai pulling naked Hinemoa out of a hotpool by her hair, mistaking her for a less welcome intruder.
Although much is made of the celebrated romance, the island's violent past is less well known. Tony points out two huge boulders. One bears the indentation of bullets shot at close range at victims who were tethered to the rock to await their fate. On another rock, the bodies of the dead were allegedly dried for their meat.
It's hard for us to imagine such brutality, awestruck as we are by the tranquil place. The geothermal island now belongs to the birds. On our way through the canopy, we are accompanied by no fewer than 12 inquisitive piwakawaka (fantails) at any time.
Tieke (saddleback) show no concern for their endangerment as they brazenly call to their mates in the trees overhead. There's only birdsong these days, but it isn't hard to see why the island was once worth fighting over. Its strategic position aside, the many pools on its shoreline must've been a gift to the early inhabitants. Some hot enough to cook in, others perfect for a steamy soak after a major exertion, just ask Hinemoa.
We had a few days in Rotorua without the mokopuna. Hinemoa and Tutanekai had 13, we have three and that's plenty enough reason to leave them at home and jump in the waka for a romantic trip for two. We stayed at the elegant Princes Gate historic hotel, which has seen its own share of romance and riri over the years. If these walls could talk. They say it's haunted by the spectre of a young woman who appears only to single men, so my wife and I figured we should be safe, unless she's bi-curious.
We weren't going to visit Rotorua and not indulge at the Polynesian spa. We chose a glorious hot soak under the stars and a couple's massage, which was clearly not a stressful experience given we both woke to the sweet sounds of each other's snores.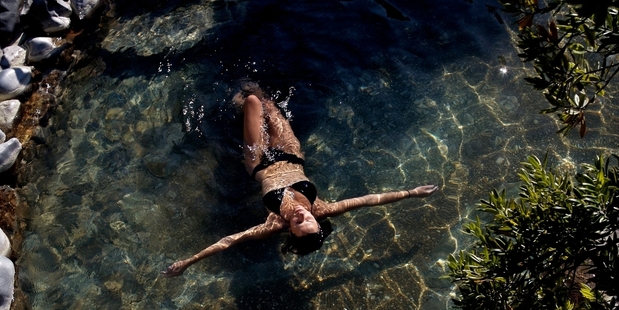 For date-night dinner we visited Atticus Finch on Eat Street. It was an absolute treat. Our favourite things were the polenta chips with sundried tomato and olive aioli and the sticky braised beef served with kumara miso puree and pickled pineapple salad. Most impressively, the staff coped with Anika's cheek.
We were lured across the road to Ponsonby Road, a bar owned by former TVNZ weather presenter Tamati Coffey and his husband Tim Smith. They have brought a touch of style and espresso martinis to the neighbourhood.
After a few quiet years, it's nice to see Rotorua rising. We googled Rotorua designers and found young local fashion star Adrienne Whitewood behind the counter of her boutique. I bought a dress and a sweatshirt in a heartbeat. Adrienne is inspired by her turangawaewae and the romantic heroine Hinemoa adorns many of her prints.
On the way out of town, we stopped off at the Okere Falls store on the edge of Lake Rotoiti and had a sausage in the beer garden.
We left talking about all Rotorua has to offer, and agreeing we should actually bring the kids next time. What little cherub wouldn't get a kick out of boiling, oozing mud and such ferocious stories of warriors and ghosts?
CHECKLIST
Further information:
nzjetboat.co.nz
princesgate.co.nz
polynesianspa.co.nz
atticusfinch.co.nz
ponsonbyrd.co.nz
adriennewhitewood.com
okerefallsstore.co.nz
---