The footpath once regarded as the world's deadliest is calling on daredevils with a head for heights to book their hiking slots for this summer.
Access to the Caminito del Rey in southern Spain near Malaga was restricted in 2000 after five walkers fell to their deaths in two years. The walkway, which clings to the side of the El Chorro gorge, had fallen into a state of disrepair, with parts of the route crumbled away and reduced to just metal skeleton rails.
It reopened to the public in 2015 after extensive renovations and the installation of a sturdy path and railings, at a cost of $4.6m. Nevertheless, Caminito del Rey, which translates as the King's Little Walkway, still requires handsome nerves.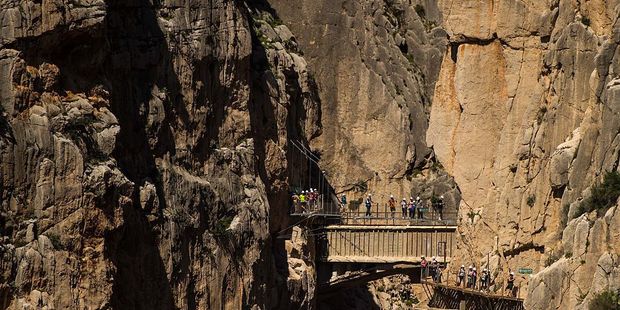 The new path was built above the old route, which remains as evidence of its early 20th century beginnings.
The walkway was originally built to provide workers at the hydroelectric plant at nearby Chorro and Gaitanejo Falls with a means to cross between them. It was about 1m wide and 80-100m above the river. 
Even the modern walkway provides several heart-in-mouth moments and the operators remind would-be hikers that a level of physical effort is required. 
Advanced booking is required to walk the 2.9km route, and the approach and finish add further distance, making a walk time of about four hours.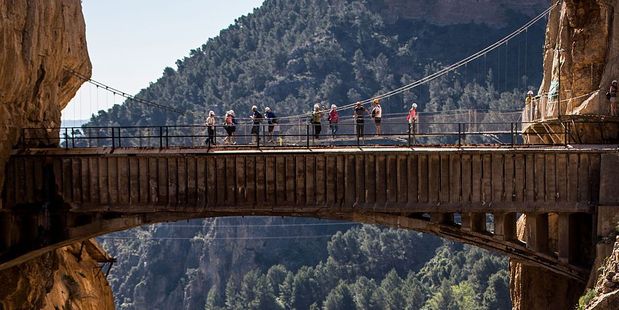 Visitors to the new route are required to wear a helmet. About 600,000 tourists have completed the walk in the past two years. 
The new path is connected to the wall with steel pins and supported by metal poles. 
The operators warn visitors that the path is not suitable for anyone who might suffer from dizziness. Rules also prohibit smoking, littering and the scattering of ashes. 
This article originally appeared on the Daily Telegraph.
---